Robin Named Winner of the Inaugural 2021 Supes' Choice Award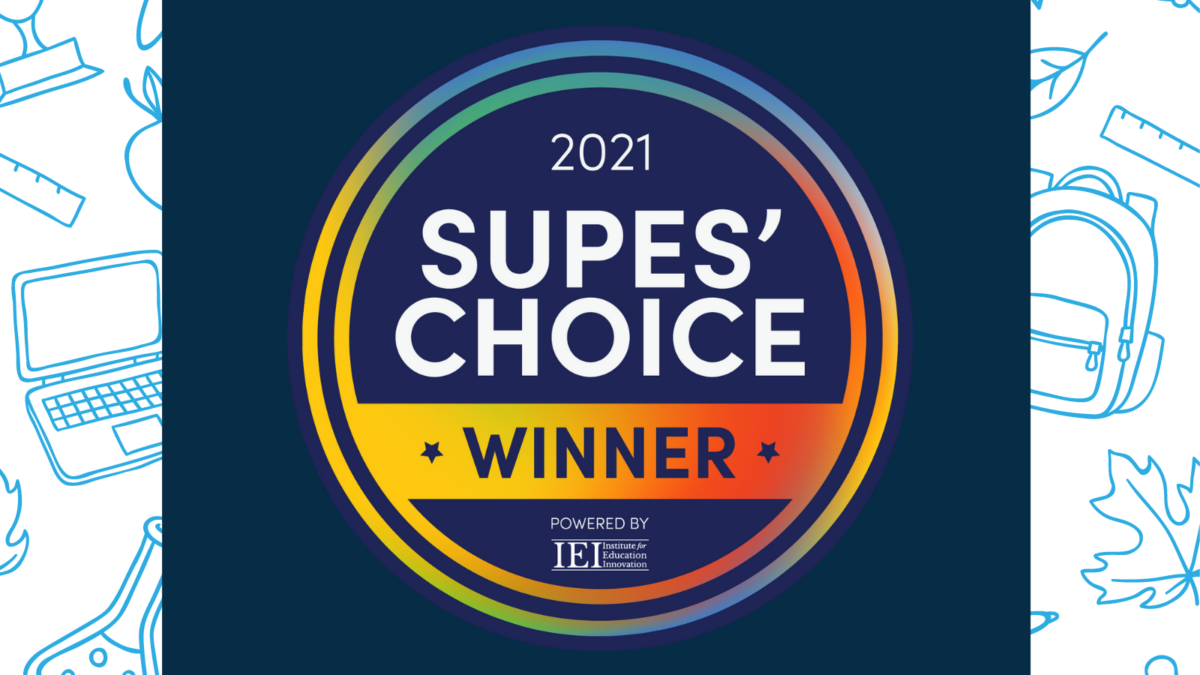 Winners were selected by a panel of district superintendent judges for this ground-breaking, new education industry award
NEW YORK CITY, New York – December 10, 2021 — Robin was named winner of the inaugural 2021 Supes' Choice Awards in the social-emotional learning category by the Institute for Education Innovation (IEI), an organization that serves as the bridge between district leaders and organizations to support the greatest challenges in K-12 education.
Robin was selected by a panel of esteemed superintendent judges from across the nation and was assessed based on Robin's commitment to student outcomes, innovation and ingenuity, client support, interactivity and engagement. The Supes' Choice Awards are the only industry awards judged exclusively by school district superintendents.
"We are truly honored to know that superintendents from across the country selected Robin as the most impactful social-emotional learning solution to equip as many young people as possible with the mental health skills to work through life's toughest challenges," said Sonny Thadani, founder and CEO, Robin. "The Supes' Choice Awards provide a unique and rare opportunity to garner constructive feedback and insights from district leader decision makers, which is invaluable for delivering the best possible solution to our K-12 district partners."
"At IEI, we are committed to improving students' outcomes and supporting effective, sustainable solutions to age-old problems in education," said Doug Roberts, founder and CEO, Institute for Education Innovation. "The Supes' Choice Awards provide a very unique opportunity for companies to not only get their products and solutions in front of district decision makers, but to also pursue recognition for their work with a prestigious, new industry award."
"Feedback is a gift," said Quintin Shepherd, Superintendent, Victoria Independent School District. "The Supes' Choice Awards are a great opportunity for educational leaders to provide feedback and celebrate our education partners for all of the powerful tools and resources they provide to K-12 school districts."
Recipients of the Supes' Choice Award were recognized at a hybrid gala held on December 9, 2021, where the judges gathered in New York City and the event was live-streamed for all award applicants. Along with the designation of being the winner, companies were provided with written and verbal feedback during the judging process. Gathering insight from district leaders has been a unique and valuable experience with Supes' Choice.
The full list of winners and finalists can be found here www.supeschoice.com.
About the Institute for Education Innovation
Superintendents are defenders of our children's right to a high-quality public education, and lead their teams toward effective, sustainable solutions to age-old problems. They must be at the center of discussions around when, where, and how innovation will affect teaching and learning. Many education solution providers, funders, researchers, and thought leaders are mission-driven: they do what they do to improve student outcomes. The Institute for Education Innovation bridges gaps between the individuals and organizations committed to seeing students succeed in school and life, creating a safe space for constructive problem-solving and innovative thinking. http://www.instituteforedinnovation.com.
About Robin
Robin is the only SEL solution that connects students with coaches and curriculum to build skills to thrive when facing life's toughest challenges. Partnering with schools, Robin customizes SEL programming to address students' specific needs. Robin's unique group coaching experiences can be combined with a flexible toolbox of on-demand Tier 1 curriculum. Students learn and practice skills to build self-awareness, self-esteem, resilience, connection, purpose and the critical thinking skills to make good choices. Learn more at my-robin.com.
###