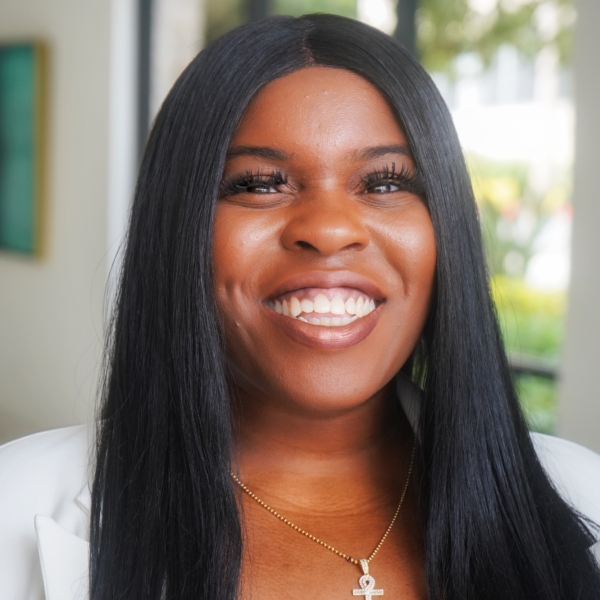 With more than 20 years of experience in women's health, clinical research, and trauma release, Nyeesha D. Williams helps Robin students find their purpose and become more self-aware.
Nyeesha is a Wholesome Growth Strategist at Serenity & Oasis, LLC, and an accomplished author of Herstorys: Her History Told Through the Eyes of Her True Self. Nyeesha's twenty years of experience in women's health, clinical research, coaching, trauma release, and urban community risk mitigation shines through in her newest book release titled, Forgiveness: Overcome Emotional Trauma, Heal Relationships And Find Inner Peace In Just 8 Simple Steps.
Nyeesha is recent graduate of Harvard Business School and a graduate of Renaissance Life Therapies under Dr. Libby Seery, from the well-respected Harley Street in Central London. Her career success and excellence have been recognized across several fronts, leading her to be presented with the "2018 Best Business Influencer" Award, the "Woman Leader of the Year" Honorary Award, a "Certificate of Recognition" by the City of Long Beach, an accolade from the House of Representatives under the Barack Obama administration, and many, many more.
From experience, Nyeesha knows all too well what isolation feels like. When she found out that she was pregnant with her first child, a teenage Nyeesha sought solace and inspiration from her high school teachers. They served as the consistent and trustworthy support system she needed to not feel alone and vulnerable. With their help, she slowly started to have faith in her potential and pursued the life she always wanted for herself and her family.
As a professional, Nyeesha seeks to be that kind of support system and cheerleader for other women who are in the same situation that she was in decades ago. She also travels extensively around the country and other parts of the globe, holding workshops that aim to educate both women and men about the importance of mental health and wellness and its direct correlation to true personal and professional growth. As an author, Nyeesha's goal is to craft more interactive and guided books that help people – especially women – in her community to survive, heal, and thrive.
Nyeesha wholeheartedly practices what she preaches when it comes to the importance of self-care, self-awareness, and unapologetic truth-telling for healing, happiness, and growth. She currently lives and works in Los Angeles, California, and spends her summers hiking, meditating, and beach hopping with her husband and three children.