Take Action to Support Students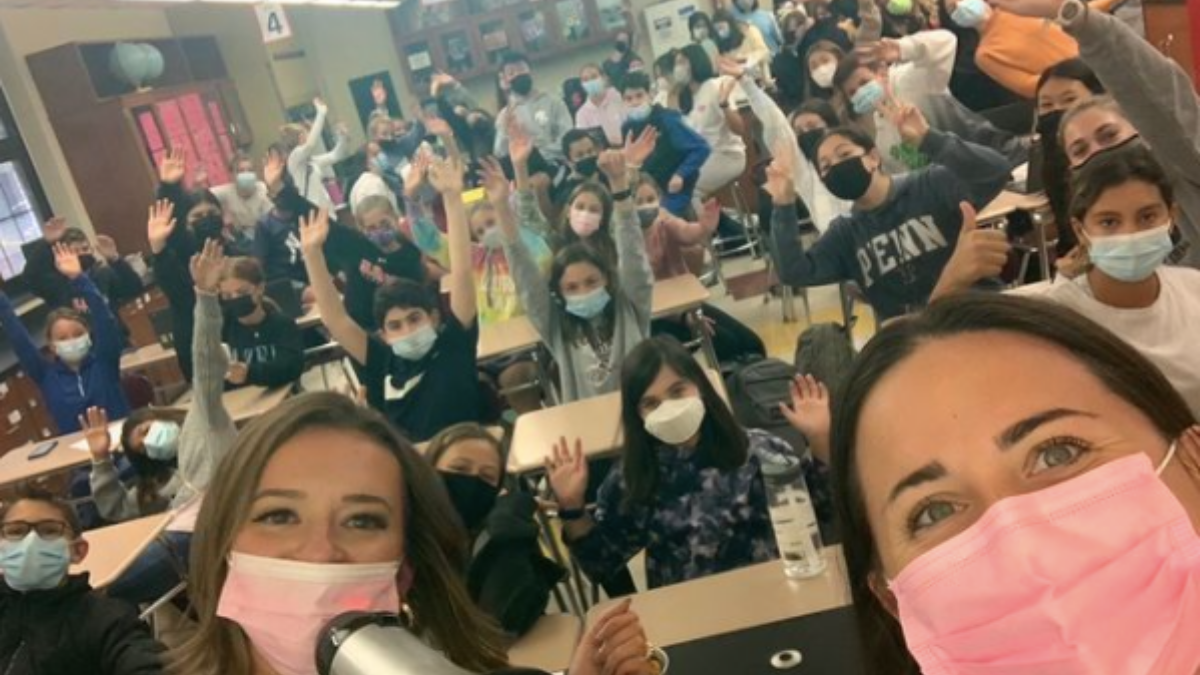 "I ask my team of counselors 'If not now, when?' Covid is giving us a unique opportunity to put a variety of supports in place so that we can really change the culture and better serve our students' mental health and wellness." said Michelle Giurlando, Director of Student Personnel Services at Glen Rock Schools in New Jersey.
On October 8, Michelle Giurlando partnered with Robin co-founder Scott Farber to speak to counselors at the New Jersey School Counselors Association (NJSCA) fall conference. She shared that Glen Rock is taking a lot of small steps to make a BIG impact in students' mental health and wellness. "At Glen Rock our goal is to create a positive, supportive, safe and trusting school culture that empowers all students to grow emotionally, socially and academically," said Michelle.
She laid out the four steps to building a more positive, supportive school culture.
Listen to what students are saying.
Last year, Michelle's team, the Glen Rock's Counseling Department, started issuing grade-level surveys to identify students' overall mental health, what they are struggling with and how aware they were of resources available to them at school. "Students responded so positively to us asking them what they need and what they want," said Michelle. They also encouraged students to visit the counseling office for any reason, reminding them that it's a place to go for support of any kind – not just college preparation.
The Glen Rock administration and counseling team also engage in regular meetings with student leaders of the newly founded "Mental Health Awareness Club" to hear their views on the mental health challenges of their peers. They partner with these student leaders in decision-making, the planning of student wellness events and with help rolling out programming and gaining buy-in from all middle and high school students.
2. Observe students' behavior. 
Michelle says it's not always enough to ask students what they need.
"Students don't always tell us what they need. Sometimes they show us," said Michelle.
A perfect example of this is an observation made by the Glen Rock counselors. They noticed students who needed a place to decompress or destress and had limited, if any, options.  If their individual counselors were unavailable, they simply had no place to seek additional assistance or to take a few minutes to collect themselves. Learning about and understanding this need impelled the establishment of a student-centered space in school.
The CORE Teams at GRMS and GRHS also regularly ask for feedback from every counselor and Child Study Team case manager as well as teachers to help identify what they are observing about at-risk students in the classroom. All of this combined with what students are voicing helps educators better understand their students and their needs.
3.  Leverage learnings from listening and observing students to enact change.
In the past year, Glen Rock's Counseling Department worked with the administration and student leaders to make small and big changes to really act on the school goals and philosophy. As a result of student outreach, they created Middle School student wellness groups grouped around life challenges that students are facing. Glen Rock counselors group kids together based on a shared challenge such as academic stress or a loss of a family member. "We piloted this program last academic year in sixth grade and it was a huge success. We are collecting student data now and will use this information to extend wellness groups to more grades this year," said Michelle.
Based on student feedback and observation and commitment from the administration and school board, Michelle and her team are also very proud to have launched a Wellness Center. The Wellness Center is a space just for students to de-stress, take a break or seek support if they need it. Staffed with a licensed counselor at all times, the Center is Glen Rock's vision and philosophy in action. It shows students that the administration is committed to supporting students' mental health and wellness. The Wellness Center will also serve as a space where the mental health club and grade-level wellness groups can meet.
Another small change Michelle and her team made is re-branding the Counseling Department space. Instead of walking into a room filled with college pennants, students now walk into a calming space with inspirational quotes on the wall. It's a small change that sets a completely different and more welcoming and open tone.
"Our new spaces send the message that this is a place where you are welcome to come for help and support. It's much more than planning for your future," Michelle told the New Jersey counselors.
Finally, getting teachers on board to incorporate social-emotional learning and live out school values on an everyday basis is critical. The district is dedicated to providing teachers with SEL-based professional development. "I remind them that a lot of what they already do is social- emotional learning, like leading group discussions and greeting each student by name as they walk in the class," Michelle said. "SEL isn't just 'Something ELse to do'; it can be incorporated into what you are already doing." Giving teachers small, concrete ideas to use every day can go a long way in improving classroom culture.
4. Engage an innovative partner like Robin to allow you to do more. 
Robin is proud to partner with Glen Rock – a school that is committed to preparing students for the future and balancing a rigorous academic curriculum with life-long social-emotional skills. At Glen rock, Robin built off of all the great things that Michelle and her team were already doing.
"Combining our assessment with the data Michelle's team collected, we were able to customize SEL programming and mental health coaching for all students. We found that partnering with student leaders of the mental health club to create programming, plan logistics and get buy-in from students was critical to achieve successful student outcomes," Scott explained.
Michelle finished by sharing what she learned most in the past year:
You can't change culture overnight. Small steps add up to BIG impact.
Have a bias toward action. You cannot be afraid of failing. "Not everything will work out but we need to keep trying to move the needle," says Michelle.
SEL and mental health programming cannot be a "one and done" solution. We need to continuously listen to our students and build on new ways to support their mental health and well-being.
Finally, administrative buy-In is absolutely critical in allowing you the space to really impact and change the culture.